Mechanical Drafting Services in India
Based on the 3D databases created throughout the project, various assembly and detail drawings are produced according to the specific standards established by the client. A bill of materials or a drawings tree structure is also produced. Information about mechanical drafting services obtained from the clients manufacturing staff or from subcontractors is taken into consideration on the drawings for manufacturing of the new product.
Mechanical Piping Design has extensive experience in Mechanical drafting and Fabrication drawing that is utilized to provide top class out sourcing service to the industry in all aspects of engineering drawings. We can develop the drawings from the conceptual stage and convert them to 2D Mechanical Drawings using the latest technology. We optimize our performance by utilizing the right technological tools that helps us to reduce the turnaround time, which is always preferred by the customers. Our team of engineers is highly skilled in leveraging the technologies for the benefit of customers and gives them competitive advantage by producing drawings that can be used for smart manufacturing and fabrication.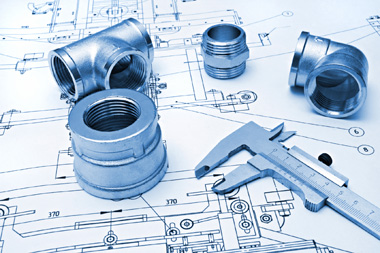 Mechanical Engineering Drawing and Drafting of Piping and Basic Plumbing is one of the many services that we provide. Piping drawings for the process industry or any other kind of industry is undertaken by us. We utilize our experience in the automotive industry to provide comprehensive service for 2D and 3D Mechanical Drafting for Auto Components and Other Parts. As an extension of this service, we also develop 3D models for willing customers.
For better understanding of our versatility in drafting services, have a look at the list of other drafting services that we extend to our customers.
Sheet Metals Shop drawings
Assembly drawings etc
CAD Drafting for Steel Parts
Fabrication of Various Product Drawings
Manufacturing & Production Drawings
Machine Shop Drawings
Casting & Machined Drawings
Sheet Metal "Flat Sheet" form drawings
Weldment Drawings
Assembly Drawings
Assembly instruction sheets
Assembly Drawings with integrated B.O.M
Isometric views & Exploded Isometric views
Paper to CAD Conversions
3D_Modeling
3D Drafting Mechanical_Drafting
Computer Aided Drafting Service
CAD Service
Reverse Engineering
Our experience of working with diverse industries like Petrochemicals, Oil and Gas, Automobiles, Fertilizers, Chemical industries and Food and Beverage industries have enabled us to cater to a wide range of client needs. We provide comprehensive solutions of digital drawings with 3 D models as well as manufacturing and fabrication drawings with deft accuracy in dimensions and tolerance.
We follow international standards of engineering and can adapt to the customer requirement exactly in the manner as desired by customers. When you entrust the drafting services to us, you can be assured of the best from us. Our team will work in close collaboration with you to provide the right kind of drawing that you are looking for and deliveries will happen on time, every time. Regardless the size of the project the quality of our services remain unmatched in the industry as Mechanical Piping Design sets new standards for the rest to follow.