Mechanical 2D Drafting Services in India
We offer cost effective working, assembly, fabrication, paper to cad and P & ID drawing services committed to quality, precision and trustworthiness. Working from a sketch, a completely detailed drawings or an idea, we make fantastically definite, two-dimensional drawings that are finished with high accuracy.
At Mechanical Piping Design, we offer cost effective working, assembly, fabrication, paper to cad and P & ID drawing services dedicated to quality, accuracy and dependability. Understanding the importance of drawings for fabrication, manufacture and construction, our team of competent professionals assure that the drawings are delivered with complete accuracy without any scope of re-working. To make this happen, our team spends more time in understanding the needs of customers so that flawless drawings can be delivered to the complete satisfaction of the customers. Working from a sketch, a fully detailed drawings or a concept, we create incredibly detailed, two-dimensional drawings that are done with high precision. We convert these to 100% CAD geometry to bring your drawings up to date with your specific CAD application & CAD standards.
Whatever design and plan you may have in mind, you can use our services. Our 2D drafting services include :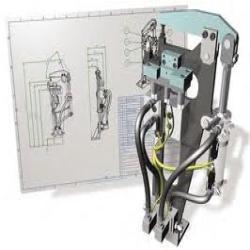 Working drawings from Conceptual sketches
Paper to CAD conversion
Piping and Instrumentation Diagram (P & ID)
Fabrication Drawings
Assembly drawings
2D drafting of mechanical parts and assemblies from preliminary design
Our mechanical 2D drafting services is a collaborative process with our customers. We maintain complete transparency in our dealings and will share with you all details about the progress of the project. Any changes that may be required will be incorporated only after receiving your approval.
We provide you with a complete solution for your working drawing needs. Quality is embedded into our systems and is reflected in everything that we do. We blend our expertise and technical knowledge with the ideas of the customers to develop accurately scaled and proportioned mechanical component fabrication drawings that are easy to understand and enable flawless fabrication.
Not limiting our capabilities to the creation of excellent drawings only using the latest technological tools like Computer Aided Design or CAD we are involved in the entire process of Creation of Drawings and BOM. Once the drawing is prepared, we go ahead with the preparation of the Bill of Materials for assemblies that ultimately make it easy for you to plan inventory levels and production.
We take complete responsibility from end to end to deliver quality drawings that are furnished with adequate information which can be useful in the later stages of manufacturing or fabrication. Our services are defined by the value that we add to it.
We at Mechanical Piping Design are committed to satisfy our customers and take utmost care to incorporate their preferences in the drawings. Happy customers are our motivation and we have plenty of them around the world. We are attuned to international engineering standards and can deliver drawings to any standard that the customer would prefer.