Finite Element Analysis (FEA)
Finite Element Analysis Services in India
We are a leading player of FEA services India and have become a single window company for FEA services outsourcing. When you outsource the services from us you are assured of being guided by the most competent company in the field of Moldflow and Finite element analysis that can provide the most cost effective solutions with fast turnaround times.
At Mechanical Piping Design we offer one of the best outsourcing Finite Element Analysis Services often referred as FEA by many in the industry in order to address numerous challenges of thermal analysis and structural analysis. We use our extensive knowledge and experience to provide the most cost effective solutions at the right time with high degree of accuracy. Our strength lies in delivering reliable solutions that can be of maximum benefit to our customers. Banking on our access to the most advanced state of the art technologies of LS-Dyna, Hypermesh, CosmosWorks, MSC Nastran, and ANSYS suite of software for FEA, we undertake the entire span from component analysis moving and end up with push button FEA processes.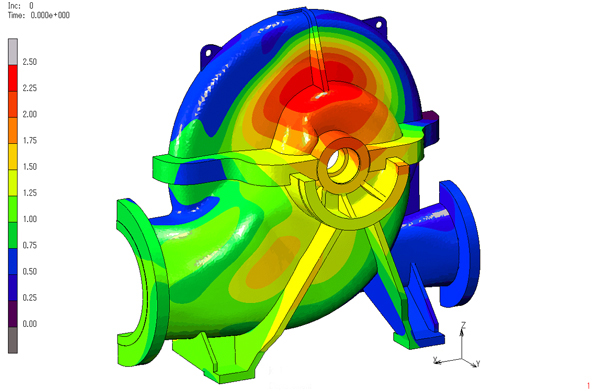 Led by a team of professional engineers having extensive experience across diverse industries, we work with companies of all sizes to address their needs of Finite Element Analysis. We offer outsourcing services across industries like automotive, aerospace, consumer products, power generation, civil and structural and biomedical. Mechanical Piping Design is a revered name in the industry for our undisputed quality of services that is unmatched in the industry.
Our FEA services can be broadly categorized into the following:
Structural Analysis – We use our expertise in finite element computer simulation to undertake structural engineering analysis for processes and products.
Thermal Analysis – This mode analysis helps to ascertain the temperature distribution in a component or assembly when it is subjected to sources of heat, both external and internal. The analysis helps to establish the heat flow paths and temperature details.
Fracture analysis and fatigue analysis – the fatigue analysis helps in predicting fatigue life as well as crack growth simulation. This analysis is done to gauge the durability of components when they are subjected to a variety of complex loading situations – dynamic, static and thermal.
Composite analysis – Composite materials are prone to a number of failure modes and the simulation that is done help in optimizing the design and also predict reliability in long term.
Explicit dynamics Analysis – These explicit dynamics solutions are best suited for conditions that involve application of severe load in brief period or solving problems that are non linear including material failure, eroding contact and large stain.
Modal analysis
FE modeling
Linear and non-linear static analysis
Mold flow analysis
Coupled field analysis