Piping Engineering Services in India
Process piping and power piping are typically checked by pipe stress engineers to verify that the routing, nozzle loads, hangers, and supports are properly placed and selected such that allowable pipe stress is not exceeded under different loads such as sustained loads, operating loads, pressure testing loads, etc., as stipulated by applicable codes and standards.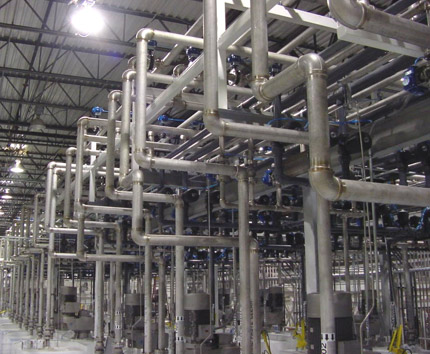 At Mechanical Piping Design, we have been delivering comprehensive services in piping engineering services for projects across diverse industry segments, using industry leading technological tools and software. We can handle projects of all kinds and complexities with equal ease. Our team of experienced engineers has handled a variety of projects and can come up with the most exquisite solution for your project that is technically superior and cost effective.
Starting from Piping General arrangement drawing to Piping design Calculations as per relevant codes we undertake the following activities related to the project piping:
Piping layouts in 2
3D piping layouts
Piping Specifications
Pipe rack design and detailing,
Piping Isometrics including details of welding, testing etc
Piping BOQ
Stress /flexibility analysis of high pressure and temp. critical lines using CAESAR-II
Performing stress analysis of various critical systems to qualify the stress and nozzle load requirements of Lines connected to equipments like Steam Turbines (Main steam line, Extraction, Exhaust lines as per NEMA SM23), Pumps, Heat Exchanger, Tank Piping, Distillation Column as per ASME B31.1 and 31.3 codes and API Standards, Pipe Support detailing and Specifications for spring hangers, rigid hangers, Expansion Joints, strut etc, Oil & gas piping.
We can even offer 3D modeling of plant using the most advanced software to envisage the outcome of the project in a very comprehensive manner.
We offer high quality solutions in piping engineering for different services like:
Hygienic/food grade piping
Compressed air piping
Double jacketed piping
Underground piping/road crossing
Boiler/thermal piping
Chilled water piping Laboratory gas piping
Co2 & N2 piping
Your benefits
Entrusting Mechanical Piping Design with your project will give you the peace of mind of satisfactory completion within agreed timelines.
Our projects are executed under close supervision and we are in constant touch with our customers to enable them gauge the progress of the project. We take care to incorporate all the customer requirements in the piping design and layout and even provide valuable inputs for betterment of cost and performance.
We follow strict quality standards that comply with the requirements of ISO and other international engineering standards. The projects are scrutinized and reviewed with complete professional expertise enabling us to provide the most efficient solutions that are highly cost effective.
Stringent security measures are built into our systems that ensure complete confidentiality of data and information. Going a step ahead, we do not hesitate to enter into non disclosure agreements with our customers while we maintain strict adherence to project milestones and timelines.
We will support you through the entire duration of the project to see its successful implementation.